The Wageningen University (WU) is an internationally leading education and research organization [5,000+ employees], ranking #1 in Worldwide in Agricultural Sciences (National Taiwan University Ranking). As a part of its strategic plan, the WU has also set Systems & Synthetic Biology as one of its spearheads, having established in 2010 the Chair of Systems and Synthetic Biology and, in 2012, the overarching Wageningen Centre for Systems & Synthetic Biology (WCSB), which includes a variety of groups from universities, research institutes and industry. Both are headed by Prof. Martins dos Santos, who is also the president of the Dutch Society of Biotechnology (NBV). His lab develops and applies theoretical frameworks supporting experimental research towards the systems level understanding of the hierarchies and dynamics of cellular networks. These frameworks are used for directed cellular reprogramming, with applications to health and industry. The lab has made acknowledged contributions to large-scale genome engineering of designer microbes and to cellular-reprogramming.
Contact
---
Prof. Dr. Dipl.-Ing. Vítor Martins dos Santos
Prof. Dr. Vítor Martins dos Santos, Wageningen UR (WUR), The Netherlands
|
Coordinator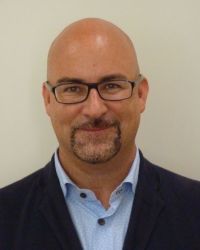 Prof. Dr. Dipl.-Ing. Vítor Martins dos Santos is the coordinator of a second project on re-programming Pseudomonas putida for bespoke biocatalysis funded by H2020-BIOTEC-1-2014. Specifically, EmPowerPutida aims to engineer the lifestyle of P.s putida to generate a tailored, re-factored chassis with highly attractive new-to-nature properties, thereby opening the door to the production of thus far non-accessible compounds.